Book
Writing the Sacred, by Ray McGinnis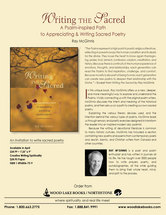 Published April 2005
www.woodlakebooks.com
(phone: 1-800-663-2775)
224 PP "7.25" x 9"
Creative Writing
/Spirituality
$24.95
ISBN 13: 978-1-896836-73-7
(In USA call
Westminster-John Knox Press:
1-800-672-1789)
Download a PDF on Writing The Sacred (111KB)
In this unique book, Ray McGinnis offers us a new, deeper, and more meaningful way to explore and understand the Psalms. Vividly connecting us with the original psalm writers, McGinnis discusses the intent and meaning of the historical psalms, and then sets us on a path to creating our own sacred poetry.
Explaining the various literary devices used, and the intention behind the various types of psalms, McGinnis leads us through sensory and poetic exercises designed to transform the reader into an inspired modern day psalmist. Because the writing of devotional literature is common to many historic cultures, McGinnis has included a section containing new psalms and poems from contemporary poets and Jewish, Islamic, and Christian writers from Canada and other countries.
RAY MCGINNIS is a poet and psalm enthusiast and has written in journals all his life. He has taught over 13,000 people how to write in a journal, write poetry, and autobiographies, all the while guiding them to bring their whole heart, mind, and spirit to the process.
Writing the Sacred is in its fourth printing and as of 2013 has sold over 5,000 copies.

Praise for Writing the Sacred and Ray McGinnis
"Ray McGinnis has a finely tuned ear for the deep meaning of the Psalms. And, as a veteran workshop leader, he has a knack for drawing bursts of imagination out of people who might not know they had it in them. In this insightful and helpful book, Writing the Sacred: A Psalm-Inspired Path to Appreciating and Writing Sacred Poetry, McGinnis brings together his talents to show readers how to rediscover the biblical psalms and how to strengthen their spiritual lives by creating their own psalms in response to our challenging, pluralistic world." - Douglas Todd, author of Brave Souls (Stoddard) is Spirituality and Ethics writer for The Vancouver Sun, Vancouver, British Columbia
"Writing the Sacred is rich with insight, power and meaning. Ray McGinnis gives us a great gift by showing the Psalms to be a living language, a poetic language vital for today. These pages are permeated with our human story - our raw and beautiful longing for God. This book will act as a healing balm and creative catalyst to help you reclaim your soul's voice."
~ John Fox, author, Poetic Medicine: The Healing Art of Poem-making and Finding What You Didn't Lose (Tarcher/Putnam), is founder of the Institute for Poetic Medicine and teaches at JFK University.
"Ray McGinnis gifts us with a sensitive, soaring path to deepened spiritual understanding. Writing the Sacred is both pragmatic and profound, with step-by-step guidance into our own sacred centers. This book is a welcome and vital contribution to the body of literature in journal therapy."
~ Kathleen Adams, LPC, RPT, Director, Center for Journal Therapy, Denver, Colorado, author Journal to the Self.
"Writing the Sacred is a beautiful invitation for the reader to reclaim the depth and meaning of how the Psalms can meet us in all our humanness. McGinnis breaks open the imagination and spirituality of psalm writing by showing how we can all live and write from the depths of our whole beings. We are beckoned to both honor and articulate our soulful ness through the aliveness of language."
~ Dr. Celeste N. Snowber, Assistant Professor faculty of Education, Simon Fraser University, Burnaby, British Columbia, author Embodied Prayer (Northstone).
"Writing the Sacred is one part celebration of the human-spiritual journey, one part psalm appreciation and two-parts writing workshop. It also includes new psalms and poems from Jewish, Islamic and Christian writers and contemporary poets."
~ Commentary: Northstone Publishing Inc., Kelowna, British Columbia